A Look Inside Your Mouth

It's said that the best place to start is at the very beginning, and with dentistry, it all begins with an initial comprehensive dental examination.
That's the place where we lay the groundwork for any future recommendations and that's where we get a good close up view of your teeth and gums.
What's Involved in a Comprehensive Exam?
You may think that a comprehensive exam consists only of a cleaning and a look at your teeth. Actually, there's quite a bit more to it than just that.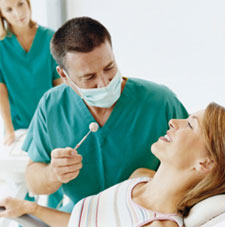 You can expect to meet the hygienist first. She will:
gather all data relevant to your care
take X-rays
review your health history
check the condition of your teeth
take your blood pressure
do a thorough work-up including photographs
look at you as a whole
One of the most critical parts of your examination will be perio-probing. Our hygienist will explain this procedure to you as she performs it, so that you understand the condition of your gums. She'll measure the depth of each pocket along your teeth. You shouldn't feel any discomfort, and this step can typically catch disease processes early enough to hopefully prevent any need for surgery.
Next you will meet Dr. Griggs and you can expect him to:
introduce himself and welcome you
take you through your digital X-rays on a chair-side screen, pointing out anatomy and what he is looking for
look for infection, decay, existing fillings,
ensure you have a good understanding of what's going on
Ready to Get Started?
Every journey begins with a first step! If it's been awhile since you've seen a dentist, Old Bridge Dental® would be happy to provide you with a thorough examination. If you have any questions or would like to schedule an appointment, please give us a call.
---