Meet Fabi, Hygienist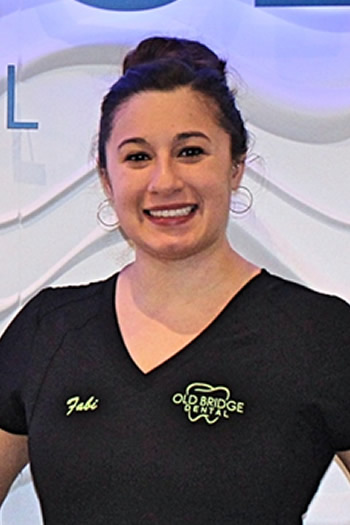 Fabi joined the Old Bridge Dental® family in September of 2015 as a Registered Dental Hygienist, RDH. May of 2014 she received her A.A.S. in Dental Hygiene at Bergen County Community College. Following her first degree, she decided to continue her educational passion by then receiving her Bachelor's Degree in Nutrition & Food Science from Montclair State University in 2016. Her academic accomplishments even lead to her receiving the Proctor and Gamble award. The combined health related background really allows Fabi to speak to patients on a personal level and guide them on their journeys to optimal oral health.
Preventative care is most important because it's a whole body approach. What goes in your mouth goes into the rest of your body. Keep your mouth healthy – keep your body healthy. It's the correlation between systematic diseases and oral health care, Fabi said.
Fabi comes from a large family from which stems her love for working with child patients, "they're very fun and always keep me laughing!
Outside the Practice
Special interests of Fabi's outside of the practice and the classroom include: cooking, eating, working-out, dressing up for holidays, and drinking coffee. Interestingly enough, she has found a way to integrate all of her fun facts into the weekly-grind. She's been known to try out new recipes and use our team as her taste-testers (chicken tacos for the win) as well as surprise coffee runs. You can always look forward to her outfits around the major holidays, including her March birthday. Her avid workout and health routines have also been an inspiration to many of our team members over the years!
Why OBD?
OBD first shook my interest when applying and I saw the website; all of the community outreach and the need to help others.
Why I stayed?
The family atmosphere made me think of my family
This team!
The patients!
---
Testimonials
"I was impressed with all of the technology used in this dental office and the atmosphere was pretty relaxing. Switching to a new dentist, you never know what to expect, but the hygienist (Fabi) was patient, friendly and most important in any hygienist… gentle! I'm glad I tried this place after receiving a flyer in the mail."

- Melissa M.
Always a pleasure, gentle and just a great place to have your teeth worked on. Fabi our hygienist is always in a good mood and takes the time to really work with you. Definitely a place where our family will continue!

Free D.
---
Fabi, Hygienist at Old Bridge Dental | (732) 967-2214