Meet Old Bridge Periodontist Samantha Aaron, DMD
Treating Patients Like Family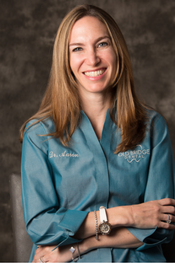 Samantha Aaron, DMD knew within her first year (2002) of dental school at UMDNJ that she wanted to take her learning a step further and specialize so that she could focus on and master her periodontal skills. Perio residency at New York University began immediately post-dental grad in 2006 and her aspiration of becoming a board certified Periodontist became a reality in 2009. This specialty was chosen from her love of performing surgeries and how natural the skill came to her.
It is so gratifying seeing something unhealthy become beautiful and healthy again!
Dr. Aaron
Life Work Balance
The dental field has provided a great lifestyle for her as she is able to properly balance work and being a mother. Dr. Aaron also notes how amazing people interactions as well as being able to work with a team to get the best results for patients just reiterates how she made the correct career choice.
Performing to the absolute best of her ability in her various roles as a person has always been the driving force. Even since childhood, it has been impossible for her to feel satisfied unless she knows she's completed her task as ideally as possible.
Always Learning
In fact, Dr. Aaron is so focused on how to provide the best quality to patients she is always continuing her education. Whether that means over achieving the number of continuing education credits mandated by the state or gaining new certifications to continuously grow her skill level for patients, she goes the extra mile. After traveling to California in June 2018, Dr. Aaron was certified by Pinhole® Academy in the Pinhole® Surgical Technique (PST®) to offer that much more to her patients.
There is no question that her peers recognize this fierceness as they did vote her Best Dentist in Health & Life Magazine of Essex & Morris counties. She may be "Best Dentist," but when she isn't setting her patients onto the path for optimal oral health, she is with her family. Between activities with her kids or spending time with her husband and parents she is quick to advise that family should always come first! Another love of Dr. Aaron's is traveling, but with her busy life she tends to get her vacation fix lately at the beach with family and friends.
Loving What She Does
There are 7 days in a week and though Dr. Aaron will utilize most hours out of each of those days this is how she will describe her life to anyone who questions just how she does it: "I truly love what I do and cannot imagine doing anything else!"
Dr. Aaron found her Old Bridge family in 2016 and it was an instant match. "Old Bridge Dental® is a wonderful place to work. The doctors and staff are so warm, friendly, and respectful; everyone has the same goals in order to provide the patient with the best treatment. In an environment like this, it doesn't feel like going to work."
Call us today to schedule your new patient appointment!
---
Dr. Samantha Aaron Old Bridge Dental | (732) 967-2214