What to Expect at Old Bridge Dental®
Before You Arrive
When you call for an appointment, you'll be given the opportunity to come in during the same week if possible. If you have an emergency, we should be able to see you the same day – especially if you are in pain.
You'll also be able to conveniently fill out your medical history form online ahead of time. The forms on our website connect directly into the dental software we use in the office, and so your information will be at our fingertips when you arrive.
Adults should plan to be here for 90 minutes on their first visit.
Your First Visit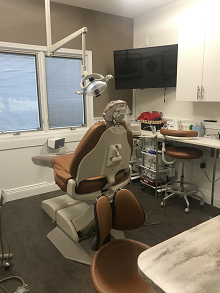 While you're in our office, your comfort is our utmost priority. For non-emergency appointments, you can expect to meet one of our hygienists first. They will:
gather all data relevant to your care
take X-rays
review your history
check the condition of your teeth
take your blood pressure
do a thorough work-up including photographs
look at you as a whole
perform a thorough cleaning
One of the most critical parts of your examination will be perio-probing. Your hygienist will explain this procedure to you as they perform it, so that you understand the condition of your gums. They'll measure the depth of each pocket along your teeth. You shouldn't feel any discomfort, and this step can typically catch disease processes early enough to hopefully prevent any need for surgery.
Next you will meet one of our dentists. You can expect them to:
introduce themselves and welcome you
take you through your digital X-rays on a chair-side screen, pointing out anatomy and what they are looking for
look for infection, decay, existing fillings,
ensure you have a good understanding of what's going on
Additional Services
In addition to maintaining your dental health, we offer a full suite of restoration and cosmetic services available at Old Bridge Dental including:
Do you have questions? Call our Old Bridge office today.
---