SureSmile® in Old Bridge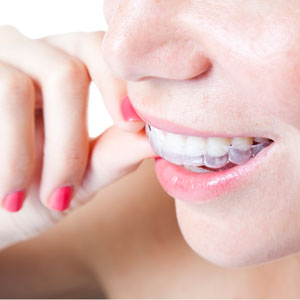 Experience the clear way to achieve your ideal smile at Old Bridge Dental. When you choose SureSmile, you can get your ideal smile quicker and easier than you may have ever thought was possible. This system utilizes a series of removable, transparent aligners. Each is designed to progressively shift your teeth into the desired position.
Enjoy a Beautiful Smile
With the SureSmile system, your treatment plan is developed by our dental professionals. Our state-of-the-art software and equipment will allow us to view your entire tooth, from root to crown, at every possible angle. We can then design personalized treatment that will keep your teeth looking healthy and aligned for the long term.
How SureSmile Works
There are four simple steps involved in achieving your perfect look with SureSmile:
A 3D model of your teeth is made that will allow us to analyze your bite
We'll calculate the precise movement of each tooth
Your personalized treatment plan is created
Your custom aligners are made with clear plastic materials
Why Choose SureSmile?
With all the orthodontic systems out there, you may wonder why we recommend SureSmile to our patients. The many benefits include:
Comfortable to wear with a precision fit
Allow you to eat your favorite foods, brush and floss as normal
Easy to keep clean
Great results in short timeframes
You shouldn't have to compromise when it comes to having orthodontics. Avoid showing off metal "train tracks" and choose SureSmile. You'll hardly notice them and won't have to make drastic changes to your lifestyle while straightening your teeth. Furthermore, SureSmile is appropriate for adults and teenagers alike, so you or your child can enjoy the many benefits.
Learn More Today
Would you like to find out whether you're a candidate for SureSmile Old Bridge? Contact Old Bridge Dental today to set up your appointment!
---
SureSmile Old Bridge NJ | (732) 967-2214